Oscar
Oscar is 15 years old and lives in residential care in Hertfordshire. He was referred to ELSA by The Hertfordshire Virtual School because he was exhibiting a number of behavioural issues and could not be left alone at school – he always had a Mentor or other adult with him. When we first met him, Oscar was lacking in social skills and his behaviour was generally very poor. It was clear he had a lack of self-belief and self-worth, he was very easily distracted and his language was, at times, inappropriate. When we asked Oscar what he wanted to be, he said a 'lawnmowerer or vacuumerer'.

We felt finding a work experience placement for Oscar would focus and motivate him and so we contacted a local Golf Club and a member of their grounds maintenance team agreed to become his ELSA Mentor. On his first visit Oscar was shy, sad, unsure, worried and lacking in social skills, but with our support, guidance and coaching we saw a real transformation in Oscar within just two weeks – he arrived for work on time, smartly dressed in his uniform, and was happy and keen to start. He told us he now felt 'part of the team'.

Over time, Oscar's home and school life improved dramatically and his teachers reported a real shift in his behaviour. He didn't want to lose the Golf Club placement and, knowing he was being constantly monitored, began to engage fully with lessons and really 'buckle down'. His ELSA Mentor had made him aware of the need to display positive behaviour at all time and to remember his 'image' and Oscar ensured he heeded this advice. He excelled at his work experience placement and when his Mentor went on holiday, Oscar was given the opportunity to work in the customer-facing area of the Club's restaurant. His attitude and confidence when talking to customers and other staff was superb and a young man with real potential was starting to be seen.

After finishing his placement at the Golf Club, and following ongoing support from the ELSA team, Oscar was able to take up a retail position at Boots. Soon after, he received a prize, at a prestigious awards ceremony and in September 2019 he embarked on a Land Management course at college.
Anna
17-year-old student, who lives in care and wishes to explore her future career.
One of ELSA's professional partners, the Hertfordshire Virtual School, provided Anna with a nurturing work experience environment.
She met other young people like her, each with unique dreams and challenges. They formed a tight-knit community, supporting and inspiring one another.
Meeting Jane from ELSA Next Generation, Anna, though reserved, shared her passion for hairdressing and future goals.
Recognising Anna's commitment, Jane arranged for her to meet a seasoned hairdresser from AcademyTeam. Impressed by Anna's potential, the hairdresser encouraged her to explore and showcase her creativity.
Recently, Anna excelled in a hairdressing and barbering workshop during an ELSA Get Work Ready event. Her performance, which involved hairstyling on a mannequin, was remarkable.
Building on this, Anna is embarking on work experience with ELSA and is poised to establish deeper connections with AcademyTeam.
Anna has an exciting future ahead of her!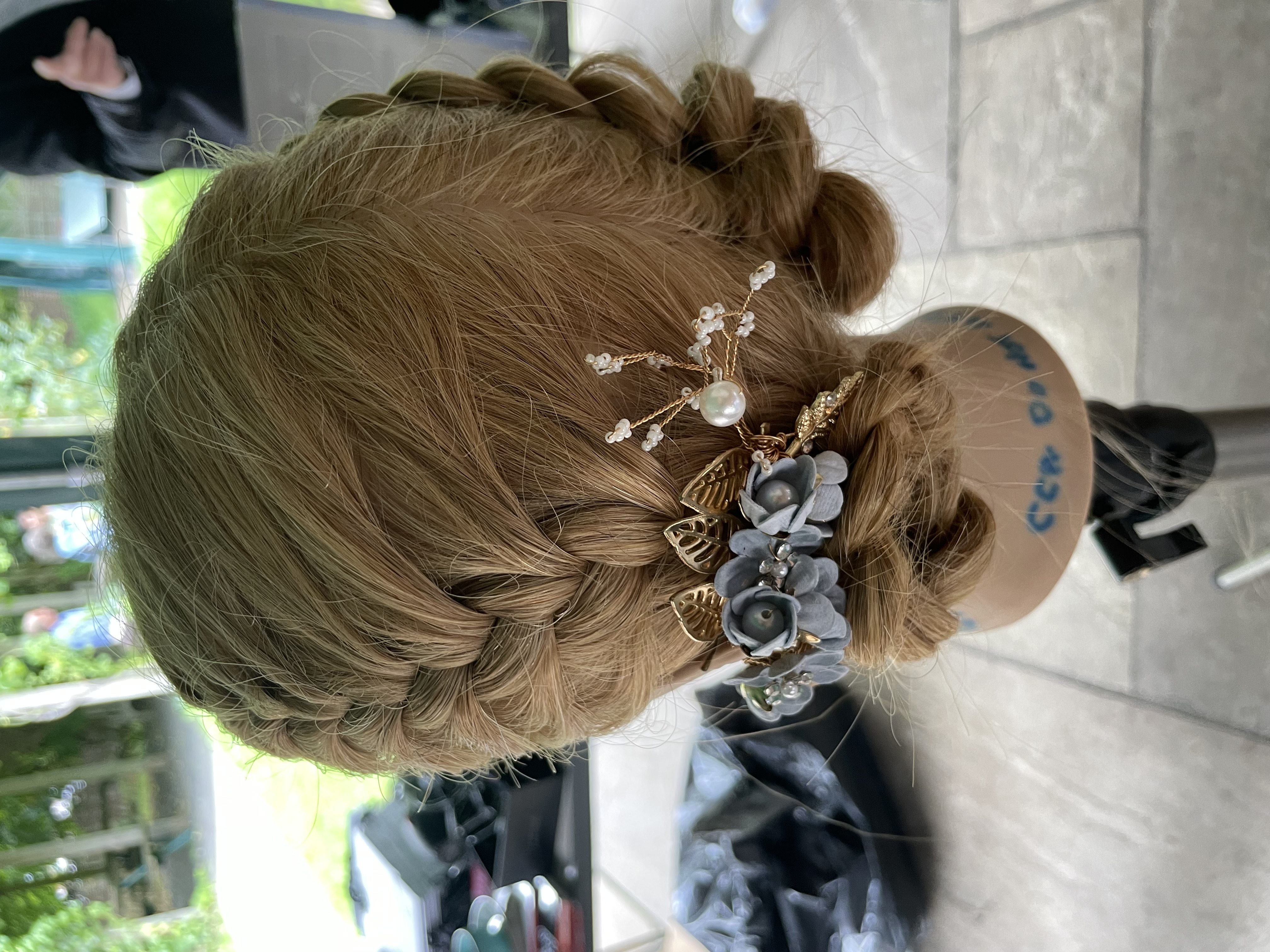 Flora
When we first met Flora, she was 18 years old and struggling with University life.

Flora became an ELSA Volunteer and, as result, her love of teaching became very clear. She was able to network with teachers in all settings and we provided work experience opportunities for her in Educational Support Centres, Pupil Referral Units, mainstream secondary and, Social Emotional Mental Health schools. We were also able to provide her with experience in settings where young people struggle with loss of hearing and/or physical and neurological impairment. With our support, Flora investigated routes into teaching and was able to take up another work experience opportunity as an observer Teaching Assistant in a local primary school which then evolved into a paid position.

Flora has now been attending the University of Hertfordshire for two years where she has trained to be a primary school teacher. She has also delivered workshops on behalf of ELSA, worked with the Hertfordshire Sports Partnership to run their school holiday camps and has been involved with the National Citizen Service (NCS) as a facilitator. Alongside this, she has grown in confidence and self-worth and has received endorsement from all the educational settings she has visited.

Flora has just recently taken up the position of a newly qualified teacher!!
Danny
Danny is 15 years old. He attends a school which helps young people who have self-excluded from mainstream school.

Danny was always the politest of individuals, but his self-belief was lacking when ELSA first met him. Working through various career-focused workshops, Danny let ELSA know of his interest in engineering. This led to a conversation with the team at Ryanair. Danny spent a day with ELSA and the team at Stansted, meeting the engineers in the hangar, getting a glimpse into the "day in the life of an engineer', being up close to an engine and even sitting in the simulator and landing the plane on the tarmac! Danny became a confident, energised and excited young man. In summer Danny spent two weeks back with the team, undertaking work experience. He travelled solo, from North London, spent full working days on site and really got to grips with life as an aircraft engineer.

Danny and his mum can tell you even more…


I knew I would enjoy the work experience because it gave me the chance to meet new people and explore my abilities with them. It also genuinely felt like I was working fill-time as I was the only kid on the train at 6:15 am. I found the people at Ryanair, easy to relate to. I can see myself working as they do, as their knowledge of the craft is something that clearly took valuable time to achieve. One of my favourite parts of the experience was the practical maintenance for some of the sims, for example on one day: a pilot in a simulator had an audio problem in the cockpit so he called the SIMENG office, a simulator engineer told me to come with him so we could both fix the simulator together as he would show me what was wrong and how they resolve it. I enjoyed that because it was real, it was a real problem, and I got the chance to experience it and resolve it. There was a day where a real pilot came to meet me, and he took me into the simulator. While he was explaining and guiding me to fly, I was still processing that I was getting trained by a real pilot. He spoke about the craft in such detail as well as the navigation and the descent. Here is a picture with me wearing a gas mask because there are smoke dispensers on the sim to replicate a real-life contingency within the cockpit. Then came airside, we were given high-viz to be taken airside by a truck on the taxi way. We were taken through security and then taken on a tour around the aircrafts that were disembarking. I personally wanted to say I'm truly grateful to everyone involved and especially everyone at my school and ELSA; this opportunity held such magnitude.





Parental feedback:


Jane, I can't thank you enough for this outstanding experience. Danny is not only sure now about his future job role choice as an engineer, but also he is able to see that he 'can' do it. - it's a lifetime memory and very much treasured by us.